Sweet Lemon & Shortbread Bars.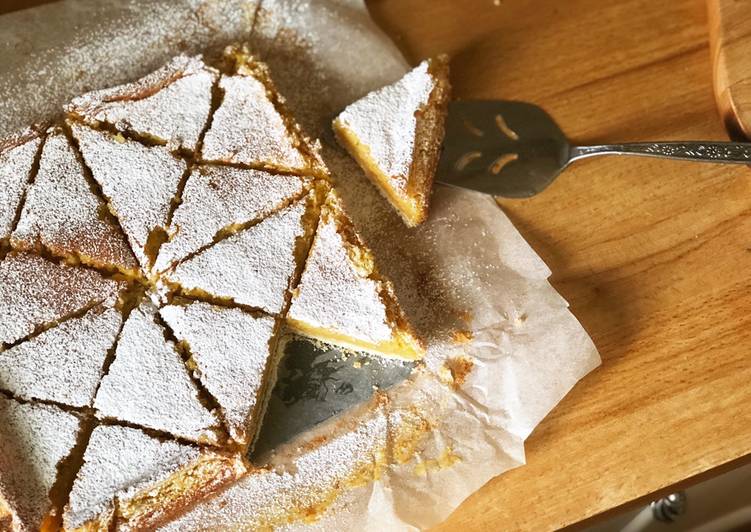 You can cook Sweet Lemon & Shortbread Bars using 15 ingredients and 6 steps. Here is how you cook that.
Ingredients of Sweet Lemon & Shortbread Bars
It's of For the shortbread base layer.
You need 30 g of icing sugar.
You need 100 g of unsalted butter, at room temp.
It's 125 g of plain flour.
You need Pinch of fine salt.
You need of For the Lemon filling.
Prepare 2 of large free range eggs.
You need 1 of egg yolk.
You need 180 g of caster sugar.
Prepare 80 ml of Lemon Juice.
Prepare 1/2 TSP of Vanilla extract.
It's 2 tsp of finely grated lemon zest.
You need 1/4 tsp of baking powder.
It's 2 Tbsp of plain flour.
Prepare of Icing sugar for dusting.
Sweet Lemon & Shortbread Bars step by step
Grease and line with parchment a 8×8 inch baking pan..
Make the shortbread base layer. In a mixing bowl, or the bowl of a stand mixer fitted with the paddle attachment, cream together the butter and icing sugar until pale and fluffy. Add the flour and salt and mix gently until well incorporated. Break into pieces and press evenly into the bottom of the prepared baking pan. It may seem at first like it won't spread across the whole pan, but it will if you persevere! Pop the pan into the fridge while you preheat the oven to 180C fan..
When the oven is up to temperature, place the baking pan into the centre and bake for 20 minutes, or until the top appears matte and puffed, and the edges are just starting to brown. Meanwhile, make the Lemon Layer..
To make the lemon layer, in a clean mixing bowl place the eggs, egg yolk and sugar and beat on a medium – high speed until paler in colour, light and airy. This should take around 3-4 minutes..
Gently mix in the lemon juice, lemon zest, vanilla extract. Sift in the flour and baking powder over the top. Mix this in very gently until fully incorporated..
Pour this lemon mixture over the still hot shortbread, then return to the oven and bake for an additional 18 to 20 minutes, or until the top is set. Remove from the oven and place the pan onto a wire rack to cool completely. Once cooled, remove from the pan and slice. Dust with icing sugar just before serving..