Zucchini, Egg, and Cheese Toast. I used cooking spray instead of oil and added garlic and italian herbs. Poured the egg mixture over the zucchini topped with a little mozzarella and parmesan cheeses and cooked till done. I served it with toast made from Buttermilk Seed Bread from this site.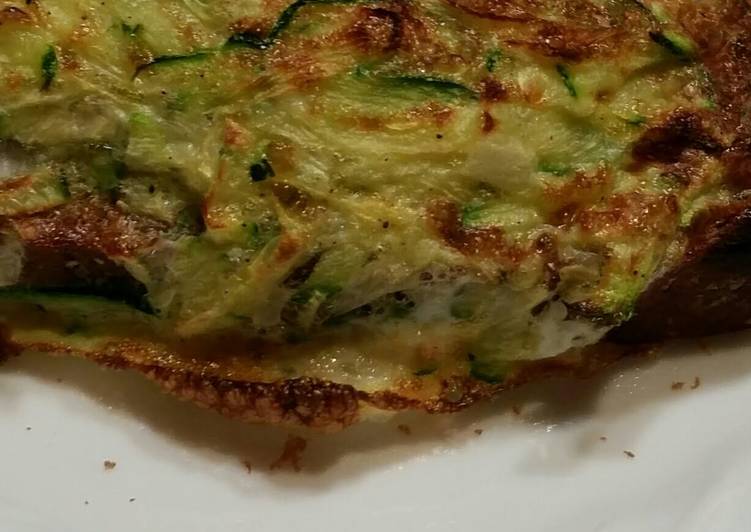 Eggs and toast are such a perfect breakfast staple. Why not turn the traditional egg-in-a-hole toast recipe on it's head with delicious cheese? And make a portable yet flavorful breakfast for them like this? You can make Zucchini, Egg, and Cheese Toast using 6 ingredients and 5 steps. Here you go how you cook that.
Ingredients of Zucchini, Egg, and Cheese Toast
It's 1/4 of zucchini, shredded (about 1/2 to 2/3 cup).
It's 1 tbsp of chopped shallot.
You need 1 of to 2 eggs.
You need 1/3 cup of shredded cheese.
You need 1 slice of of bread.
Prepare of salt and pepper.
Learn how to make baked egg toasts with mozzarella cheese. Zucchini Egg Bake. "This wonderfully moist brunch dish can be made a day early and stored in the refrigerator to save time," reports Kim Hafner of East Walpole, Massachusetts. "Loaded with zucchini, herbs and cheese, it goes well with croissants and fresh fruit." Cheese Egg Toast: I recently saw a recipe on Crazy Adventures in Parenting for a baked egg toast with cheese. After removing from the oven, season and serve your lovely baked egg cheese toast. Cheesy Egg Toast Perfect For Breakfast.
Zucchini, Egg, and Cheese Toast Preparation
Shred zucchini with a grater. Use a paper towel and ring out excess water from shredded zucchini..
Beat egg(s) in a small bowl, add a tiny bit water and stir in..
Put chopped shallots, shredded zucchini, shredded cheese, salt and pepper, and any herbs to taste into the small bowl with the beaten eggs..
Toast the piece of bread until slightly golden, not fully toasted..
Turn oven to broil, put the zucchini mixture on the toast, and broil 6-8 minutes or until golden brown on top..
Cornmeal or flour (you can use gluten-free flour if desired). Place bread on a baking tray lined with baking paper. Using your fingertips, make an indent in each slice big enough to fit an egg. Cheese, like feta, fontina, goat cheese, mozzarella, Parmesan, ricotta, or yogurt. Arugula, corn, eggplant, peppers, potato Roast the zucchini until just tender.