Zucchini and quinoa salad. A healthy summer dish, this zucchini quinoa salad is packed full of veggies, is dressed with a quick lemon-dill dressing and topped with toasted pine nuts! With farmer's market season in full swing, I'm doing all that I can to snap up as much produce as possible. One of my favorites right now is summer squash/zucchini.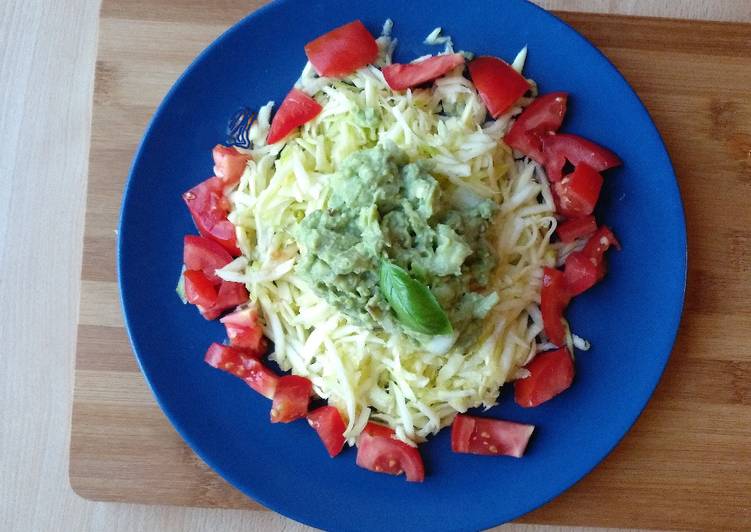 Everyone will love the combination of flavors and textures in this vegan quinoa salad: garlicky sauteed zucchini, delicate scallions, crunchy roasted pistachios, and fragrant fresh mint. Grilled zucchini salad with quinoa and feta is a great way to use up that zucchini glut. An easy recipe to make ahead, the grilled zucchini adds a delicious smoky element to the salad, and leftovers are great for the lunchbox. You can create Zucchini and quinoa salad using 6 ingredients and 3 steps. Here you go how you cook that.
Ingredients of Zucchini and quinoa salad
It's of Zucchini / Courgette (1).
It's of Tomato (1).
Prepare of Avocado (1).
You need of Lemon (1).
Prepare of Onion (1/2) or Green onion.
It's of Quinoa (optional, 1 cup).
Place the quinoa in a bowl, and cover with cold water. Drain through a strainer, and rinse until the water runs clear. Bring the water or stock to a simmer in a medium saucepan. Heat another medium saucepan or lidded skillet over medium-high heat, and add the quinoa.
Zucchini and quinoa salad Step by step
For details see the video: https://youtu.be/pIbJy20e4Oc.
Cook the quinoa and cut the ingredients.
Mix & season the ingredients… It is your chance to get creative! (This salad is also perfect to take-away).
Thai Zucchini Noodle and Quinoa Salad. Spiralized zucchini is the base of this crunchy raw vegetable salad that features a creamy, flavorful Thai peanut dressing for a healthy lunch or dinner. I've been on a bit of a Thai kick lately, as witnessed by last week's Shrimp in Thai Coconut Sauce. It actually started out as just a zucchini ribbon salad, but I kept finding myself serving it alongside quinoa for dinner, so now I just toss them together. This may be your new 'go-to' salad for summer!