Pumpkin, Chickpea & Zucchini Curry (Vegan/Vegetarian). When cooking with pumpkins look for sugar pumpkins. They are smaller, sweeter and less stringy than the larger varieties. Preparing the pumpkin will be the hardest part of this recipe.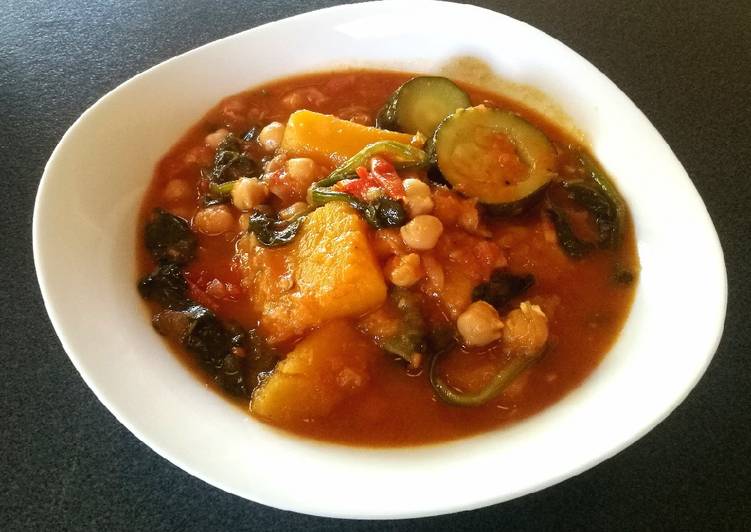 Start making your naan (perfect for scooping). Each and every bite is full of cozy fall flavors, tender chickpeas, and sweet creamy pumpkin. The best thing about this recipe is that it's very easy to make. You can create Pumpkin, Chickpea & Zucchini Curry (Vegan/Vegetarian) using 27 ingredients and 5 steps. Here you go how you cook it.
Ingredients of Pumpkin, Chickpea & Zucchini Curry (Vegan/Vegetarian)
You need 1/2 of Butternut Pumpkin (600gms).
You need 1 of Zucchini.
Prepare 2 of Tomatoes.
You need 2 handfuls of Baby Spinach.
It's 1 of Brown Onion.
You need 1 of Garlic Clove.
It's 1 Tbs of Fresh Ginger grated.
Prepare 500 mls of Vegetable Stock.
It's 1 Can (240 gm) of Chickpeas.
Prepare 1 Can (400 gm) of Tomatoes.
It's 2 Tbs of Coconut (or Greek) yoghurt.
It's 2 Tbs of Olive Oil (or vegetable oil).
You need of The Spices.
It's 4 of Cardamom Pods.
You need 3 of Cloves.
You need 2 of Star Anise.
Prepare 4 of Curry Leaves.
It's 2 of Bay Leaves.
You need 1 of Cinnamon Stick.
It's 1 Tsp of Fenugreek Seeds.
Prepare 2 of Tsps Ground Corriander.
Prepare 2 of Tsps Ground Cumin.
You need 1 Tsp of Garam Masala.
Prepare 1 Tsp of Ground Tumeric.
Prepare of Fresh or dried chili.
It's to taste of Salt.
Prepare to taste of Pepper.
I added garlic, onions, pumpkin, coconut milk, chickpeas, and spinach. Anyways, there's no rule, so feel free to add any vegetables. When pumpkin is cool, place in a food processor with rinsed and drained chickpeas, cumin, coriander, mustard, paprika, lemon juice and Worcestershire sauce. Heat a non-stick frying pan over a medium-high heat.
Pumpkin, Chickpea & Zucchini Curry (Vegan/Vegetarian) Instructions
Saute Onions, Ginger and Garlic on low heat in olive oil for approx 10 minutes.
Add all Spices to pan and and fry for a minute or 2 (or until fragrant).
Add all vegetables minus the Spinach and stir.
Add the canned Tomatoes, Chickpeas, Stock, Yoghurt & bring to boil.
Once boiling, turn heat to low and simmer for approx 20-30mins (or until pumpkin is soft). Add the Spinach a few minutes before removing the pot from the heat.
Bring to the boil, then add the pumpkin and chickpeas. Check occasionally and add a splash of water if it looks a bit dry. Stir the pumpkin or squash into the pan and coat in the paste, then pour in the stock and coconut milk. Slow Cooker Pumpkin, Chickpea, and Red Lentil Curry. skip to recipe. Creamy, hearty, and full of flavor, this vegan Indian-inspired Crock Pot recipe is so easy to assemble.