Seared Chicken w/ Zucchini Noodle Al Pastor Bowl.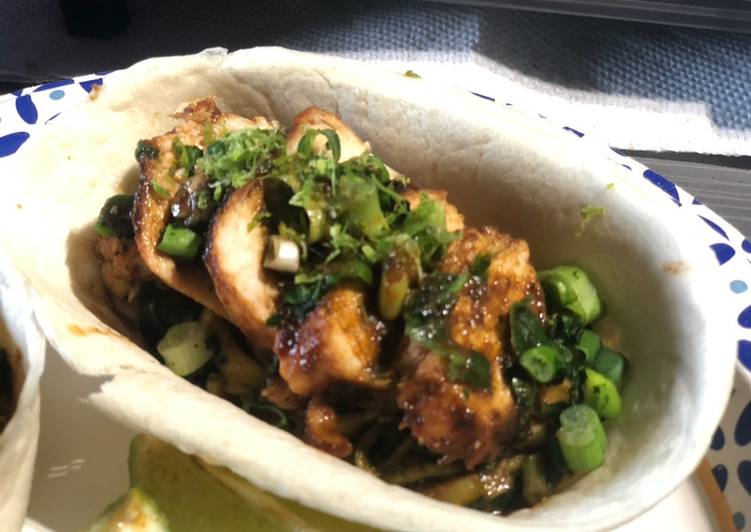 You can make Seared Chicken w/ Zucchini Noodle Al Pastor Bowl using 16 ingredients and 9 steps. Here you go how you achieve it.
Ingredients of Seared Chicken w/ Zucchini Noodle Al Pastor Bowl
You need of Seared Chicken.
Prepare 6 oz of Chicken Breast.
Prepare 1 tsp of Cayenne Pepper.
It's 1 tsp of Ground Cumin.
Prepare 1 tbsp of Grill Mates Brown Sugar Bourbon Seasoning.
You need 2 of Limes for juice and zest.
Prepare of Salt and Pepper.
Prepare 1 tbsp of Stick Butter.
You need of Al Pastor Zucchini Noodles.
You need 1 of La Tortilla Factory Al Pastor Skillet Sauce.
It's 1 of Small Zucchini.
You need 2 tbspn of Chopped Green Onion.
You need 1 tbsp of Cilantro Diced.
It's of Salt and Pepper.
Prepare 2 of Asparagus.
It's 2 of Premade soft shell Taco Bowls.
Seared Chicken w/ Zucchini Noodle Al Pastor Bowl Instructions
Heat Skillet to Medium High. Pad both sides of chicken breast to remove outer juice. Season with Salt, Pepper, Cayenne, Cumin, and Grill Mates..
Once heated, add butter to slightly froth. Place in in chicken and sear about 6-7min. While saucing butter over chicken..
In the meantime, spiral the Zucchini into noodles. Season liberally with salt and pepper. Add in a small bowl of water and let rest. Dice up Green Onion and Cilantro..
Flip chicken over and continue to sauce. Top with some cilantro, and continue to sauce until 165-170° internal temperature. (Add in asparagus about 3 minutes prior to allow asparagus to soak in the juice. Remove from pan, top with half the skillet juice and let rest..
Strain Zucchini Noodles and pat excess water off..
With the remaining juices, add in Zucchini Noodles and sauté. Drizzle half the pouch of Al Pastor seasoning and stir in. Add in half the green onion and Cilantro and continue to stir. Remove front heat..
Prior to serving, Slice the chicken at an angle..
Place two taco bowls, base it with the zucchini noodles, Chicken Slices (drizzle al pastor glaze from skillet on top. Dash with cilantro, green onion, and Lime Zest. Place asparagus and two lime wedges (for squeezing on taco bowl)..
Serve and enjoy..