Poached pollock with brown butter and peas.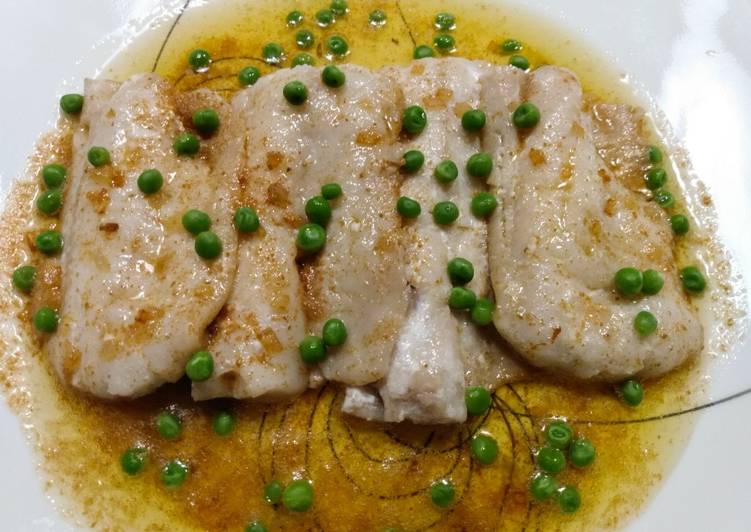 You can cook Poached pollock with brown butter and peas using 6 ingredients and 5 steps. Here is how you achieve that.
Ingredients of Poached pollock with brown butter and peas
Prepare 4 of deboned, skinless pollock fillets.
You need 1/3 cup of salted butter.
You need 1 of small shallot, minced.
It's 1/4 cup of frozen sweet peas.
Prepare of Smoked salt flakes.
It's of Lemon wedges.
Poached pollock with brown butter and peas instructions
Fill a medium saute pan with about 1 in. of neutral oil. Carefully lay the pollock into the oil and turn the heat to medium. Once you see a steady stream of tiny bubbles floating to the surface, take the pan off the heat..
Add the butter and shallot to a large nonstick pan on medium-high heat. While you wait for the butter to brown, move on to Step 3..
Lay the frozen peas out in a single layer on a plate. Microwave the peas in 20 second bursts until they're just warmed through..
Check the butter sauce. Once the foaming slows and the butter reaches a caramel colour, carefully transfer the pollock from the saute pan to the butter sauce. Spoon some of the melted butter over the fillets, but don't flip them. Let the fish sit for 1 minute, then carefully transfer the fillets to a plate. Pour the brown butter over top..
Sprinkle the peas onto the plate. Sprinkle a little smoked salt onto each fillet. Serve with the lemon wedges..