Trinchado.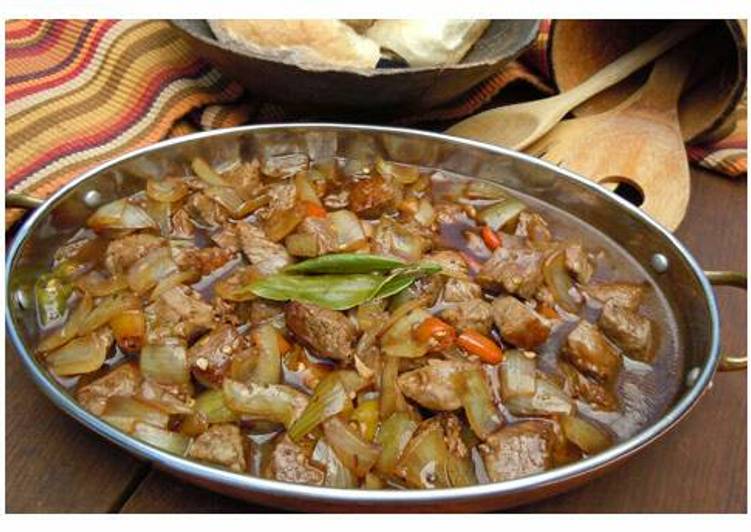 You can cook Trinchado using 15 ingredients and 7 steps. Here is how you cook it.
Ingredients of Trinchado
You need 1 kg of cubed beef tenderloin or rump steak.
Prepare 6 tablespoons of butter.
You need 1 teaspoon of salt.
You need 1 teaspoon of black pepper.
You need 1 teaspoon of paprika.
It's 2 of onions, sliced.
It's 5 tablespoons of Worcestershire sauce.
Prepare 4-5 of small hot red chili peppers, stemmed and chopped (retain the seeds).
Prepare 8 of garlic cloves, minced.
It's 2 tablespoon of flour.
Prepare 1 cup of beef stock.
Prepare 2 cups of Portuguese red wine.
You need to taste of salt and pepper.
You need 4 of bay leaves.
You need 6-8 of Papo Secos (Portuguese bread rolls, for dipping).
Trinchado step by step
In a bowl, mix together the Worcestershire sauce, chilis, paprika, 1 teaspoon salt, and 1 teaspoon black pepper. Now add the cubed beef and let it marinate for 2.5 hours in the refrigerator to ensure that even the tougher cuts of meat are tender. Rinse marinade off meat and set aside in a bowl..
In a large saucepan on medium to high heat, heat 2 tablespoons of the butter. When the butter is melted and sizzling, add about 1/2 of the beef and brown well..
Remove the beef cubes from the saucepan, place in a bowl and set aside. Add 2 tablespoon of butter and cook the remaining beef until browned. Set aside in the same bowl, or do in more steps depends on your saucepan size..
Once done cooking the beef, reduce the heat and add the final tablespoon of butter and sliced onion and cook for about 5 minutes, or until soft. Add the garlic and cook for another minute or so. Sprinkle the flour over the onion/garlic mixture and stir for about 2 minutes or until thick to your liking (my preference is not to thick).
Add the set aside marinade, stock, and red wine and bay leaves to the pan. Stir until the sauce thickens and simmer for about 10 minutes..
Now add all of the beef set aside in the bowl to the saucepan. Leave to simmer for about 20 to 25 minutes on low heat or until beef is tender and cooked. Season with salt and pepper to taste..
Serve while hot in bowls with fresh Papo Secos (Portuguese bread rolls).