Potatoe and Squash Casserole. Place in layers with chopped onion and cheese. Cut up squash and potatoes (into small chunks) and boil in water until tender. Mix onion, sour crean, cheese, salt and pepper together.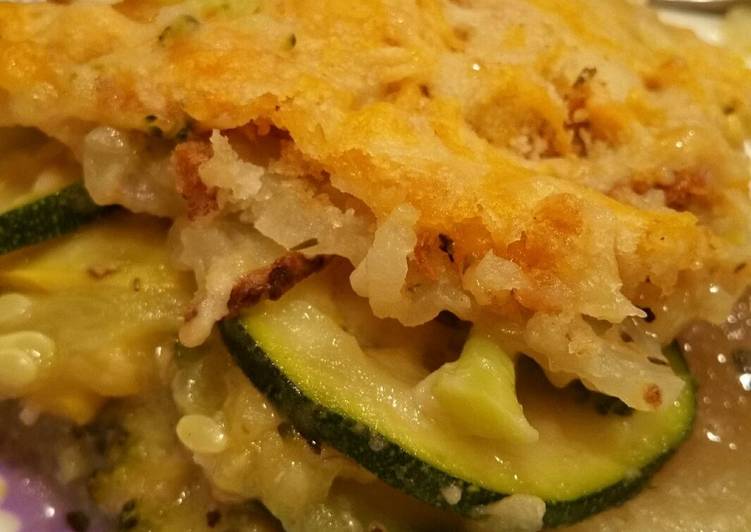 The squash and the sweet potatoes marry together so well in this dish, and the praline topping is just a perfect accent. My husband is not a veggie eater, though I managed to pull off this recipe without my husband knowing there was a bit of squash in it all! He simply thought it was sweet potato casserole. You can make Potatoe and Squash Casserole using 11 ingredients and 16 steps. Here you go how you cook it.
Ingredients of Potatoe and Squash Casserole
It's 2 large of Russet Potatoes, sliced 1/4 inch.
It's 2 medium of Zuchinii, sliced 1/4 inch.
You need 1 large of Yellow Squash, sliced 1/4 inch.
You need 1 small of Onion, chopped.
Prepare 1 cup of Milk.
You need 2 tbsp of Cornstarch.
Prepare 1 cup of Breadcrumbs.
Prepare 1 tsp of Italian Seasoning.
Prepare 1 of Salt and Pepper.
Prepare 1/4 cup of olive oil.
You need 1 1/2 cup of Cheese.
This is a perfect vegetarian meal for the fall! Paula Deen's Cheesy Squash Casserole recipe from Food Network gets its richness from Parmesan, cheddar and a special cracker topping. Place in the prepared casserole dish and sprinkle the cracker crumbs evenly over the top. Add the potatoes and butternut squash into the casserole dish.
Potatoe and Squash Casserole Step by step
Slice the vegetables and potatoes. Place each in their own bowl or plate. Set aside..
*Tip* Slice the potato later, while sauce is simmering, to prevent possible browning..
Chop the onion and place in dry pan. Turn heat to med-low and cook a few minutes. Stir. Add a little bit of water, a tablespoon at a time, to prevent burning. Cook until onion is medium brown. Remove onions from pan and place in a bowl or plate..
Add milk to pan scraping up onion bits left in pan. Heat to boil then simmer..
Create a slurry placing cornstarch in a cup with a tablespoon of water. Stir till cornstarch is dissolved..
Add slurry to milk and stir. Add salt and pepper and a shake or two of italian seasoning and stir. Simmer milk for another 5 min. Add onions to milk and stir. Heat for a few minutes then turn off heat..
Prepare your casserole dish (spray pam, oil or butter it) and start layering..
Preheat oven to 350°.
You can layer any way you want. What I did is I started with rows of potatoes overlapping each other till the casserole dish was filled. Topped it with rows or a layer of zucchini and then a layer of yellow squash..
At this step you can put half of the onion-milk mixture over the vegetables and then continue doing another layer of potatoes, zucchini and squash..
Top with the last of the onion-milk mixture. Cover it with foil and bake for 35 min at 350°..
While it's cooking prepare the breadcrumb topping. Put your breadcrumbs and italian seasoning in a bowl, top with oil and stir. If using fresh breadcrumbs, get 2 slices of bread and squish it and roll it in your hands until it forms a ball and throw it in your blender. Blend for a few seconds until you get breadcrumb consistency..
Remove pan from oven, remove foil and sprinkle breadcrumbs over the casserole and then sprinkle your cheese over the breadcrumbs. Add more or less breadcrumbs as needed..
Place. uncovered casserole back in oven and bake for another 15 to 20 minutes..
*Tips* Instead of cornstarch you can make a roux using 2 tbsp flour and 2 tbsp butter. Put this in the pan before the milk. Stirring and cooking the flour till it changes color then add the milk..
You can also use any vegetables you have on hand. This recipe is very versatile..
Season potatoes and butternut squash with sea salt, and freshly cracked black peppercorns, and toss ingredients together. In a food processor add ham and fresh parsley. Pulse until the ham resembles small crumbles. Squash Casserole is a one of those recipes that you'll find for nearly every holiday, reunion, or special occasion when my family gets together. To say that this recipe is a staple family-favorite would be a definite understatement, actually.