Butternut Squash Hash N' Eggs.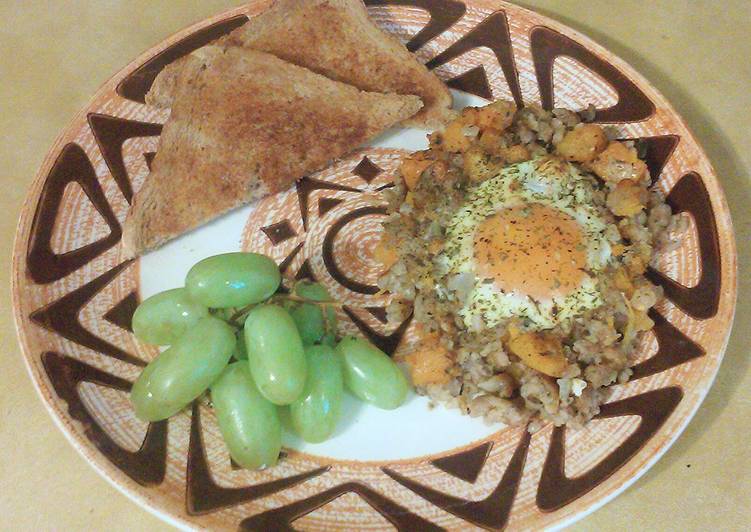 You can create Butternut Squash Hash N' Eggs using 6 ingredients and 8 steps. Here you go how you achieve it.
Ingredients of Butternut Squash Hash N' Eggs
You need 1 lb of bulk pork or turkey breakfast sausage.
Prepare 1/2 of yellow onion – finely chopped (optional).
It's 12 oz of butternut squash – cut into half inch cubes.
You need 4 large of eggs (egg whites only may be used for lower cholesterol).
It's 1 of salt and pepper to taste.
Prepare 1/2 tsp of your favorite herb blend (I like Tastefully Simple's Spinach & Herb mix).
Butternut Squash Hash N' Eggs Instructions
Preheat oven to 350°F..
Heat up an oven safe skillet over medium heat break up and cook breakfast sausage until browned and fat is rendered; about 8-10 minutes. Stir in chopped onions halfway through If desired. When sausage is done remove from skillet with a slotted spoon to a paper towel-lined plate in order to absorb excess fat. Pour off all but about 1 tbs of fat from the skillet..
Still over medium heat add butternut squash to skillet. Add a pinch of salt and pepper, stir and spread out into a single layer. Cook until just tender, stirring occasionally and allowing it to cook long enough on each side to brown slightly. Over medium on my stove this took about another 8 minutes..
Turn off heat. Add sausage back to pan, stir to combine smashing some of the squash pieces with the back of your spoon. Press down to distribute evenly in pan and flatten top. Then using the back of the spoon make 4 evenly distributed shallow wells in the hash mixture (not all the way to the bottom of the skillet)..
Carefully crack one egg into each well. Sprinkle just the eggs with a pinch of salt and pepper. Sprinkle the entire surface of the dish with your favorite herb mixture..
Place in preheated oven uncovered. Bake until the eggs are as set as you'd like. In my oven that's about 10 minutes for runny yolks, 15 minutes for soft and 20 minutes for hard..
When done remove from oven and let rest about 2 minutes before serving. Spoon out one egg with the hash surrounding it per person. Serve with whole wheat or multigrain toast and/or a cup of fresh fruit..
Tip: For a great shortcut try to find fresh, precut butternut squash if possible. I found a 12 oz package of precut at my local grocery store for a reasonable price. Butternut squash was the ONLY ingredient and it worked great!.