Mike's Chilled Greek Feta Salad. Chill all vegetables, olives and cheese. This full-flavored recipe is the perfect lunch. It's ideal for a day at the lake because it can easily be doubled or tripled Chewy farro is tossed together with classic Greek flavors like fresh dill, kalamata olives and feta cheese to create this healthy and delicious whole grain.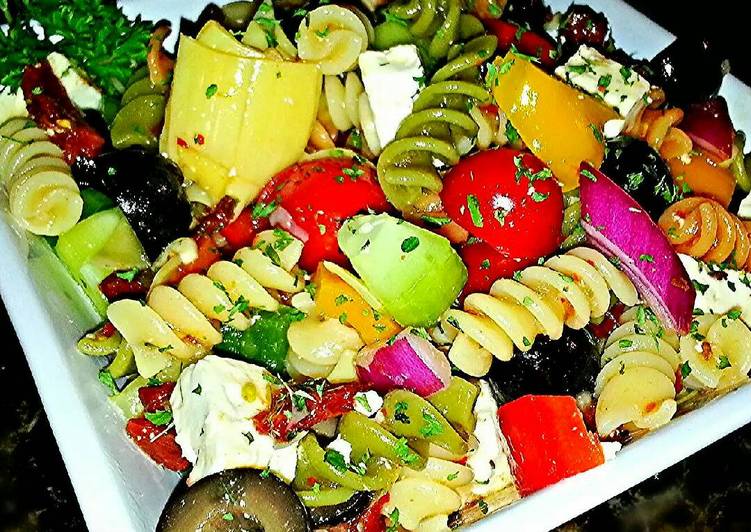 This refreshing Keto Greek Salad is the perfect side dish for a potluck or picnic, but it can also be eaten as an entree for a light lunch or dinner! Also, if you're making a salad as a meal – you need to bulk it up with things that are healthy but will still keep you full! This keto greek salad with feta is one of my. You can create Mike's Chilled Greek Feta Salad using 17 ingredients and 8 steps. Here you go how you achieve that.
Ingredients of Mike's Chilled Greek Feta Salad
Prepare of Greek Feta Salad.
You need 1 box (12 oz) of Multi Colored Rotini Pasta.
It's 2 (8 oz) of Boxes ATHENOS Feta Cheese Chunks [1/4" chop].
You need 5 oz of Shreadded Parmesan Cheese.
It's 1/4 Cup of Sun Dried Tomatoes [in oil – chopped].
Prepare 1 can of Artichokes In Water [drained – chopped].
Prepare 1/2 of large Red – Green – Yellow – Orange Bell Pepper [chopped].
You need 1 can of Black Olives [drained – sliced in half].
You need 1 of large Cucumber [peeled – chopped].
It's 1 (10.5 oz) of Cherry Tomatoes [sliced in half].
Prepare 1/2 cup of Chopped Green Onions.
It's 1 of Purple Onion [chopped].
You need 1/2 Bunch of Fresh Parsley [rough chop].
Prepare 1 of Fresh Cracked Black Pepper [to taste].
Prepare 2 tbsp of Fresh Basil [optional].
You need 1 cup of Banana Peppers [optional].
Prepare 2 (16 oz) of Bottles Kraft Zesty Italian Dressing [reserve one bottle].
Fresh mint, feta cheese and zucchini are a favorite summer salad combination in small tavernas throughout the Greek Isles. Try this salad as a take-along lunch or a light dinner. In this refreshing Greek Zucchini Salad, the zucchini is enjoyed raw. I know there are people who eat raw vegetables particularly for nutrition reasons, but honestly I love the texture and flavor of raw zucchini.
Mike's Chilled Greek Feta Salad Instructions
Clean, chop and drain all vegetables. Refrigerate until pasta is ready and cooled down..
Chop Feta Cheese chunks in semi large chunks and add to vegetables. They will fall apart slightly when mixed with the dressing..
Shred Parmesan Cheese if not already shreadded..
Bring a large pot of water to a steady boil and add 1/2 tsp salt and a splash of oil. Pour pasta into boiling water, stirring occasionally and cover for 8 minutes. Or, as per box directions. I'll boil my noodles al dente [just under manufacturers directions] for a toothier chew..
Drain noodles and place pasta in a large bowl. Immediately add your entire bottle of Italian Dressing to your pasta and mix well. This step is important. Especially if you're serving this dish the same day. Your pasta will instantly begin to absorb your dressing while hot. Allow pasta to cool naturally on the counter..
Also another great dressing option!.
After pasta has cooled off – add all of your chopped chilled vegetables and cheeses. Gently fold them in. Refrigerate salad for several hours – gently mixing occasionally. As needed – add your reserved bottle of dressing if you feel your salad is firming up too much with the addition of cheese..
Authors Notes: #1: I've tried the most expensive Italian Dressings and most of the more cost effective ones. One of the best I've found to date is Kraft Zesty Italian for flavor and price. #2: The flavor of this salad is exponentially better the following day. #3: Stir entire batch of salad from the base upwards each time before serving dishes for best flavor. Enjoy!.
It's not harsh at all, and it actually absorbs the flavors of the salad in a wonderful way. I wanted to share this easy Balsamic Chickpea Avocado Feta Salad in time for last minute Easter ideas, that happened to be low carb full of flavour. This is not only our typical, weekly family side salad; it sometimes passes as dinner served with grilled chicken pieces. Pour dressing over salad and toss to combine. Divide among chilled salad plates and garnish with extra crumbled feta cheese and sliced tomatoes.