Summer spicy roasted succatosh with tarragon. I love using fresh corn, shaved right off the ear to make a seasonal succotash. Served with roasted salmon, it's a light but satisfying meal that says summer is here! Giada De Laurentii's quick and easy pan-roasted salmon with summery orzo succotash makes the most of farm fresh produce.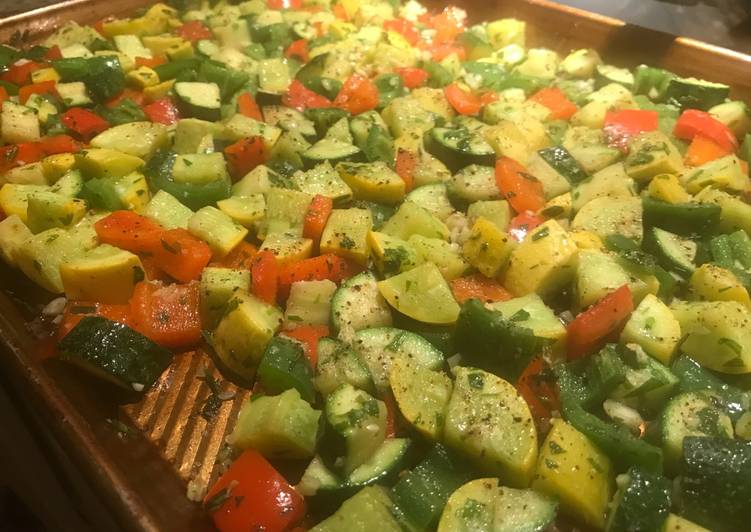 Corn and lima beans are the two primary ingredients in succotash, the supporting players vary from recipe to recipe. This is comfort food at its finest. I cook it at least once a week and usually serve it with homemade mashed potatoes Add cream, stirring to loosen browned bits from pan. You can cook Summer spicy roasted succatosh with tarragon using 8 ingredients and 3 steps. Here you go how you achieve it.
Ingredients of Summer spicy roasted succatosh with tarragon
You need 3 of yellow squash diced.
You need 3 of zucchini diced.
Prepare 5-6 of fresh jalepeno diced.
Prepare of Red bell diced.
It's 1/3 cup of fresh minced tarragon.
You need 1/4 cup of fresh minced garlic.
You need of Evo.
It's of Salt and pepper.
Increase heat to medium-high; cook until slightly thickened. TODAY contributor Giada De Laurentiis is in the kitchen with Al Roker to demonstrate how to make a light fish dish for summer with farm-fresh ingredients. Spicy Summer Squash Succotash. by: Sodium Girl. Get your grill burning (or if you don't have a grill, turn on your oven – you can roast the corn, pepper, and tomatillo in there to achieve a similar smokey flavor).
Summer spicy roasted succatosh with tarragon Preparation
Add all ingredient to a bowl.
Toss with evo, tarragon and garlic and season to taste..
Preheat oven to 500, add veggies to a sheet pan and roast about 15 to 20 minutes.
Basil suggests summer, rosemary, winter and fall. Tarragon is the herb for spring. Leaves of tarragon inserted under the skin of a chicken before it is roasted permeate the flesh with its flavor. Salmon, which is rich and fatty, goes wonderfully with tarragon, which has a faint anise aroma that. Serve with the remaining tomato fondue on the side.