Pea and Cashew Indian style rice.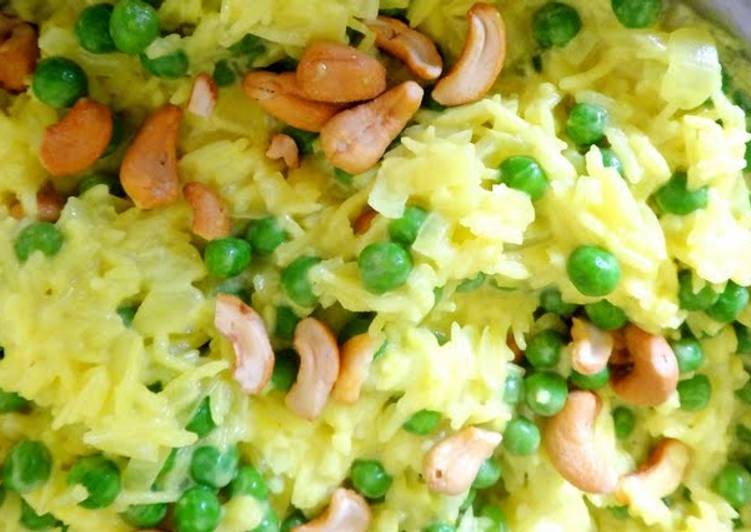 You can have Pea and Cashew Indian style rice using 13 ingredients and 10 steps. Here is how you cook it.
Ingredients of Pea and Cashew Indian style rice
Prepare 1 cup of rice (basmati is traditional).
You need 2 cup of water.
It's 1/3 cup of cashews (unsalted and raw, but roasted is ok).
Prepare 3 tbsp of oil (ghee is traditional or butter but any works with a decent heat point for cooking).
Prepare 1 cup of fresh or frozen peas.
You need 1 tsp of cumin seeds.
It's 1 each of 1 inch piece fresh ginger.
Prepare 1 tsp of turmeric.
You need 1 tsp of garam masala or curry powder.
It's 1/4 tsp of paprika.
It's 1 tsp of salt (or to taste).
Prepare 3 tbsp of fresh herbs chopped or 1 1/2 tbl. dried like an Italian mix.
It's 3 each of green chillies (Serrano work good, adjust for your heat level).
Pea and Cashew Indian style rice step by step
Clean and soak rice for 20 minutes. Drain and reserve soaking water..
Heat oil in medium sauce pan over medium low heat. If using Raw cashews, stir in the hot oil for 10 minutes until golden, remove from oil..
Turn heat to medium, add cumin seeds, chilies (diced) and ginger (diced). Stir for 2-3 minutes until cumin seeds darken.
Add the turmeric, garam masala/curry powder and paprika. Stir for one minute..
Add the rice and stir for 4 minutes.
Add the reserved soaking water and fresh peas (see step 8 if using frozen peas).
Bring to a boil over medium high heat. Reduce heat to low, cover and simmer for 20 minutes undisturbed..
If using frozen peas, rinse in a strainer under warm water, add to rice after 15 minutes of cooking time (instead of 20 minutes). Do not stir, just add on top, cover and cook 5 more minutes..
Remove from heat, let stand 5 minutes..
Added cashews, fluff all with fork. Serve hot..