Rice sticks, cabbage, and peas.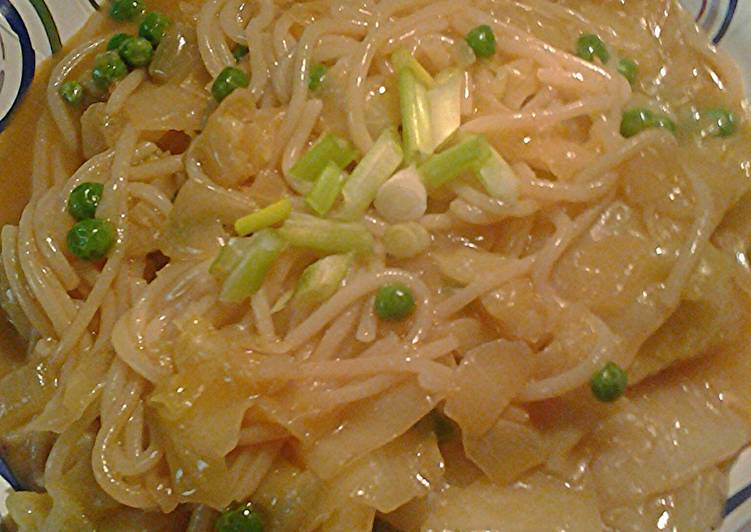 You can have Rice sticks, cabbage, and peas using 20 ingredients and 6 steps. Here is how you achieve it.
Ingredients of Rice sticks, cabbage, and peas
Prepare of main.
You need 6 oz of Jiangxi rice sticks.
Prepare 1 small of head of cabbage.
You need 1 large of onion, chopped.
Prepare 1 stalk of of celery.
Prepare 1 tsp of salt.
It's 1 tsp of granulated garlic powder.
You need 1 tsp of fine onion powder.
It's 1 tbsp of ponzu I used kikoman citrus ponzu.
Prepare 1 tbsp of rice vinegar.
Prepare 3/4 cup of frozen green peas.
Prepare 1 tsp of chives oil.
It's 1 quart of vegetable broth.
You need 1 cup of water.
It's 2 tbsp of olive oil, extra virgin.
Prepare of garnish.
You need 3 of green onions.
It's of thickener.
It's 1/4 cup of water.
You need 1 tbsp of cornstarch.
Rice sticks, cabbage, and peas step by step
Heat oil in a large pan chop the cabbage and celery and add to pan, add spices cover for 5 minutes.
After 5 minutes of cooking covered add onions stir in cook 5 minute covered when you achieve caramelized cabbage just a bit add broth add rice sticks when broth boils stir in well covering sticks with cabbage cove cook 10 minutes stirring occasionally.
Add chives oil.
Let cook 20 minutes covered it will take a bit for the rice sticks to cook add cup of water.
When the sticks are done add frozen peas add corn starch solution serve immediately garnish with green onions.
If you dont have ponzu add a mixture of soy sauce, citrus juice, sugar water syrup.